Dynalogic stands for more than delivery. As a full-service delivery specialist and an adjunct to successful companies, Dynalogic increases the value of the product ordered. This means speed, flexibility and service based on your wishes and those of your customers. Dynalogic is part of DynaGroup, where every day more than 2,000 people work passionately to exceed the expectations of (end) customers.
From repairing smartphones to delivering passports to the home: DynaGroup provides smart solutions to make your life easier. Our organisation has five business units that complement each other with their own areas of expertise. Dynalogic is one of these business units.
With ten branches spread throughout the Benelux region, DynaGroup is a fully fledged behind-the-scenes supply chain partner with its services and smart solutions. What does this mean? This means that our business units, each with its own area of expertise, work strong2gether to continuously exceed the expectations of our customers.
Each business unit specialises in services and solutions for customers from, for example, the financial sector, the travel and insurance world, the government, e-commerce and the telecommunications sector. The units complement each other and together they guarantee full-service solutions that make life so much easier for our customers.

The 2,000 or so employees are highly motivated and work every day to exceed the expectations of our (end) customers. What's more, we are constantly looking to improve and innovate. At DynaGroup, grip and growth go hand in hand. We are therefore proud of the awards we have won: the Deloitte & ING Best Managed Company award, the Thuiswinkel Logistieke Innovatie award and, no less than three times, the Gouden FD Gazellen award.
We are Dyna – everyone who works at Dyna, regardless of position, identifies with this motto. We cherish that because without employees there is no service; they are the key to the ultimate customer experience.
We are Dyna is also about teamwork. Strong2gether we create fans and realise the perfect customer experience.
For delivery perfection, all the links in the logistics process must be perfectly coordinated and cooperation is a decisive factor. Whether it is the account manager who makes appointments with the client, the logistics employee who sorts during the night, our planners who plan the best route, the driver support colleague who helps the delivery person on the road, the call centre agent who answers the consumer's questions or the delivery person who is ultimately the face of the company to the consumer, we all do it together and every link is equally important.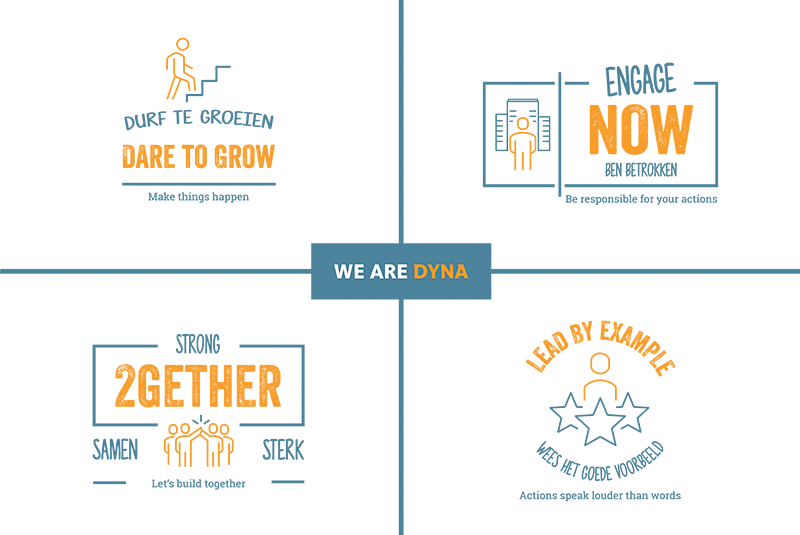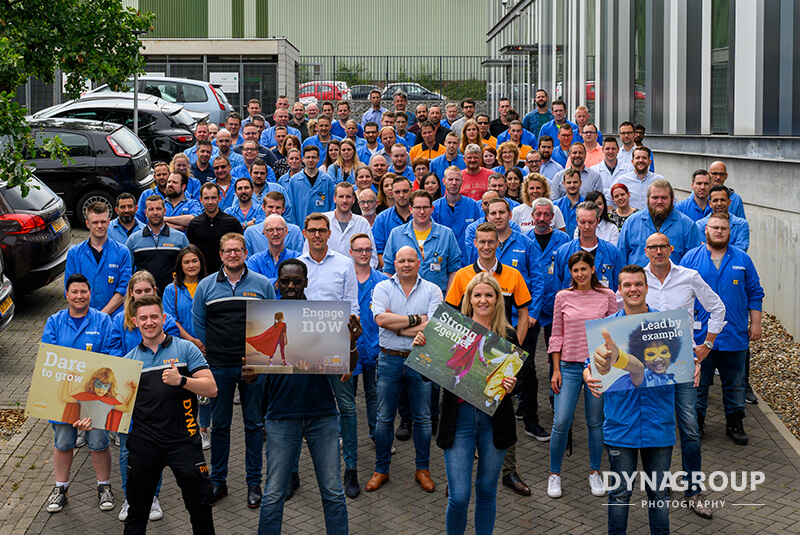 We are Dyna also means a number of core values that we consider important.
Based on our philosophy of "We Are Moving Forward", at Dyna we have a strong focus on "Dare To Grow", which means working every day on the innovations of tomorrow.
We believe that growth is only possible if we "Work Together"intensively. With our people and with our customers. That way we create win-win situations for every challenge in our environment. We create effective partnerships by allowing our employees to take "Responsibility" for success and disappointment as well as visibly recognising "Exemplary Behaviour" in this respect.
We keep moving forward, we are ready for the future!
DynaGroup never stops innovating
Keen to know what DynaGroup or Dynalogic can do for you? Contact us. Contact us.